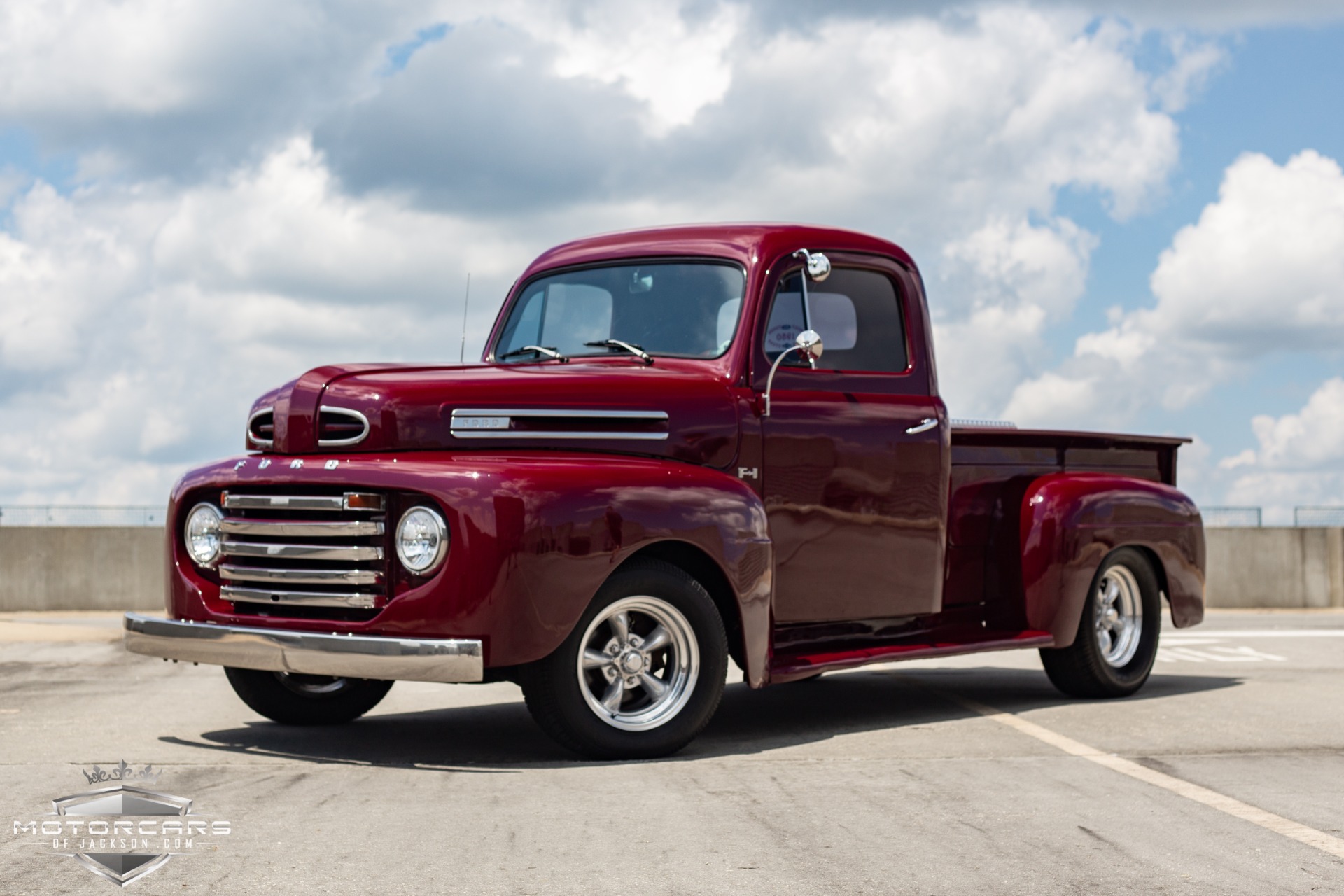 Save

remove

Contact
1950 Ford F1 Pickup
Price: $29,900
| | |
| --- | --- |
| Type: | Used |
| Year: | 1950 |
| Make: | Ford |
| Model: | F1 Pickup |
| Body: | Pickup Truck |
| Transmission: | Automatic |
| | |
| --- | --- |
| Stock: | C259136 |
| VIN: | 97HC259136 |
1950 Ford F1 Pickup Truck - Restomod
Attention Galore ... Everyone always gives a thumbs up!!!
This 1950 Ford F1 Pickup is in Great condition ... and makes for the perfect weekend warrior or car event.
The Highlights:
* GM 350 V8 Crate Engine - 320 HP
* Edelbrock Performer Aluminum Cylinder Heads & Carburetor
* B&M Turbo 350 Transmission w/ converter
* GM 7.5" Rear End w/ Eaton Posi Traction 3.42 Gear Ratio
* Old Air Products Hurricane Unit A/C w/ R134
* Summit Racing Upgraded Autometer Gauges
* Summit Racing Pro Wires, Spark Plugs, & Cap and Rotor Kit
* Summit Racing GM 100 amp Alternator
* Interstate Battery
* Euro 7" Round Halogen Headlights - LMC Truck
* Summit Racing Traction Bar
* Summit Racing Shocks & Front Coil Spring Set
* Upgraded Front End Suspension Bushings
* Vintage Ford Floormat Set
* Vintage Ford 4" Side Mirrors
* Custom Wood Bed w/ Crimson Fire Stain & Alum. Trim Strips
* UWS Tool Box w/ Battery & Fuel Tank Storage
This American classic runs and drives great. I have personally spent time in it with no issues. Feel free to call with questions or concerns.
We do NOT charge any type of fees. No dealer fees, document fees, preparation fees, temporary tag fees, NO HIDDEN FEES. (We only collect sales tax for Mississippi residents.)
We offer complimentary airport pick-up or we can help facilitate shipping directly to your door for an easy internet buying experience. We ship all over the USA and Canada weekly.
Contact Chip @ 769.243.8568 to schedule a showing, inspection, or answer ANY questions you may have. Thank you for viewing the inventory of www.MotorcarsofJackson.com
www.MotorcarsofJackson.com
Like us on Facebook and Follow us on Instagram

Options
Special Features
1950 Ford F1 Pickup Truck - Restomod
Attention Galore ... Everyone always gives a thumbs up!!!
*** 11,529 Miles Showing ***
This 1950 Ford F1 Pickup is in Great condition ... and makes for the perfect weekend warrior or car event.
The Highlights:
* GM 350 V8 Crate Engine - 320 HP
* Edelbrock Performer Aluminum Cylinder Heads & Carburetor
* B&M Turbo 350 Transmission w/ converter
* GM 7.5" Rear End w/ Eaton Posi Traction 3.42 Gear Ratio
* Old Air Products Hurricane Unit A/C w/ R134
* Summit Racing Upgraded Autometer Guages
* Summit Racing Pro Wires, Spark Plugs, & Cap and Rotor Kit
* Summit Racing GM 100 amp Alternator
* Interstate Battery
* Euro 7" Round Halogen Headlights - LMC Truck
* Summit Racing Traction Bar
* Summit Racing Shocks & Front Coil Spring Set
* Upgraded Front End Suspension Bushings
* Vintage Ford Floormat Set
* Vintage Ford 4" Side Mirrors
* Custom Wood Bed w/ Crimson Fire Stain & Alum. Trim Strips
* UWS Tool Box w/ Battery & Fuel Tank Storage
This American classic runs and drives great. I have personally spent time in it with no issues. Feel free to call with questions or concerns.
We do NOT charge any type of fees. No dealer fees, document fees, preparation fees, temporary tag fees, NO HIDDEN FEES. (We only collect sales tax for Mississippi residents.)
We offer complimentary airport pick-up or we can help facilitate shipping directly to your door for an easy internet buying experience. We ship all over the USA and Canada weekly.
Contact Chip @ 769.243.8568 to schedule a showing, inspection, or answer ANY questions you may have. Thank you for viewing the inventory of www.MotorcarsofJackson.com
www.MotorcarsofJackson.com
Like us on Facebook and Follow us on Instagram